This festival is intended to foster an appreciation for art & innovation in Downtown Danbury and the surrounding area. It will provide each vendor the opportunity to showcase their products to its best advantage, support the purchase of original work, and highlight the creativity found in our community.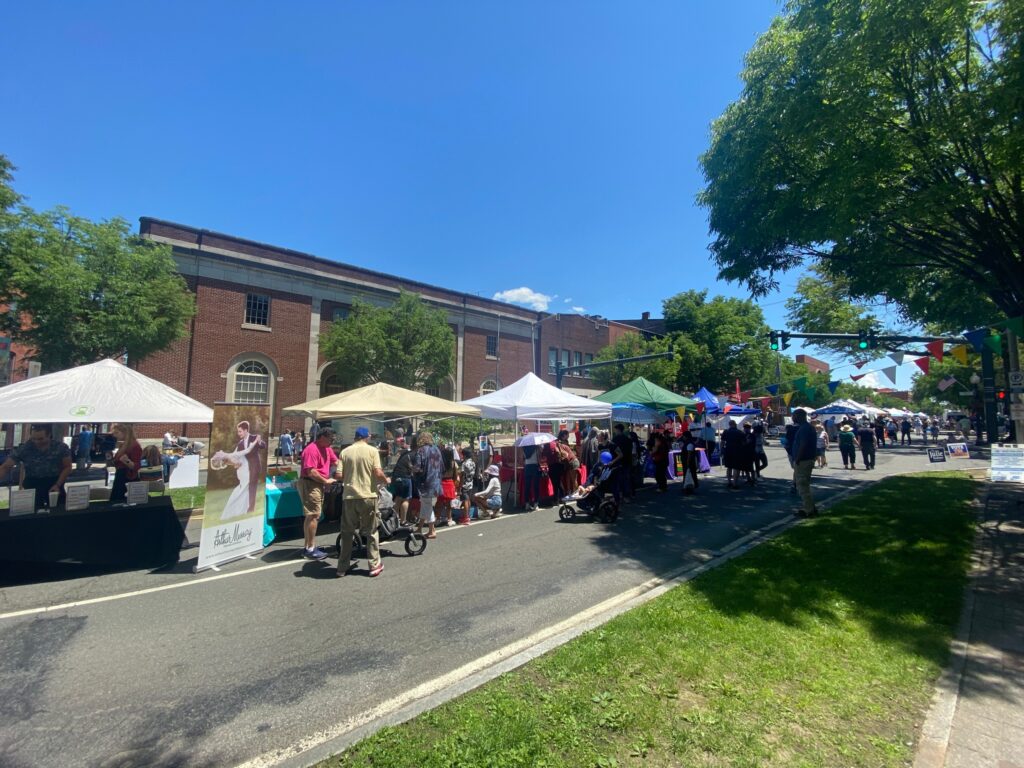 ELIGIBLE WORK FOR DISPLAY: We encourage all applicants to display original work created by the applicant.
ELIGIBLE SPACE ASSIGNMENTS: One booth space is 10' by 10' for a fee of $75.  A 10' by 20' booth space is $125.  A 10' by 30' booth space is $150. Food Trucks are $225.  Vendors must provide their own tent(s), table(s), and display racks.  We highly suggest you also bring weights for the tent (no stakes allowed in the paving).  Exhibitors may not relocate or move their assigned space without the permission of the Festival Organizer.  Booth sharing or sub-leasing is prohibited unless arranged for in advance by the Festival Organizer.
REGISTRATION DATE: Please register early. Upon acceptance, we will send you a request for payment for your booth space. Please submit your payment by May 12, 2023.
CANCELLATION POLICY: If you cancel before May 12, 2023, we will return your booth fee less a $25 administrative charge. No refunds will be made for cancellations after May 12, 2023.
RAIN DATE: Sunday, June 4, 2023
SET-UP AND BREAKDOWN TIMES: Set-up begins at 10:00 AM to 11:45 AM on June 3rd. Vendors must be completely set up by 12:00 noon the day of the show and remain set up until the end of the show at 6:00 PM. Vendors may not break down their booth displays before 6:00 PM without the permission of the Festival Organizer.
DISPLAYS: Displays must be sturdy and anchored to withstand crowds, wind, and weather conditions.
LOSS OR DAMAGE: Vendors are solely responsible for their art and display.  CityCenter Danbury and any of its agents assume no responsibility for loss or damage to any artwork, display or personal injury.
CERTIFICATE OF INSURANCE: A Certificate of Insurance is required of all vendors naming CityCenter Danbury & the City of Danbury as additional insured.
FOOD: Any vendor selling food must obtain a temporary food permit from the Danbury Health Department even if there is only free tasting done at the booth.  NO food, snacks, or beverage items may be sold or given away unless approved by CityCenter and the Danbury Health Department.
EXAMPLES OF ELIGIBLE MEDIA: All are welcome! Including, but not limited to – oil, acrylic, watercolor, pastel, drawing, mixed media, sculpture, prints, photography, graphics, ceramics, fiber, textile, wood, metal, glass, jewelry, robots, etc.
FEES
$ 75 – 10′ x 10′ booth
$125 – 10′ x 20′ booth
$150 – 10′ x 30′ booth
$225 – Food Truck
——————————————————
$ 25 – Late Fee if submitting after May 12, 2023
Please submit your application below.
Upon acceptance, we will send you an email including payment options using Paypal, Venmo, or any major credit card (via PayPal).